Fireproof composite steel truss floor decking sheets for high rise buildings

1.Truss deck introduction: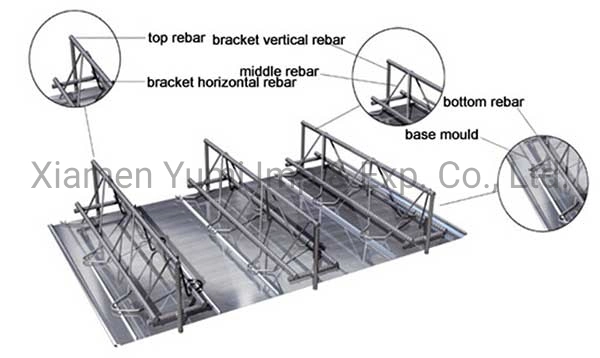 The steel truss deck is made by steel bars and steel sheets,which is also one kind of steel decks for high rise buildings.Comparing to other steel decks,this type has the following advantages:
☆ It reduce factors that can make material costs increased:
Because it changes the usage of corrugated steel sheets,and as a template during the installation time,it reduce the dosage of steel sheets.At the same time,it reduce the anti-corrosion galvanizing layer requirements for profiled steel sheets.
☆
It changes the force mode of floor slab during the construction time:
It can offer greater strength,in order to accommodate larger unsupported slab spans.
☆
It reduce customer
'
s maintenance cost.
The
corrugated
steel
sheet
is only used as a template for the construction stage.It
doesn
'
t
need to be treated
for
fire protection
o
r
meet requirements of the building life in the anti-corrosion,so there is no need to consider the cost of post-maintenance.
2.Product specifications: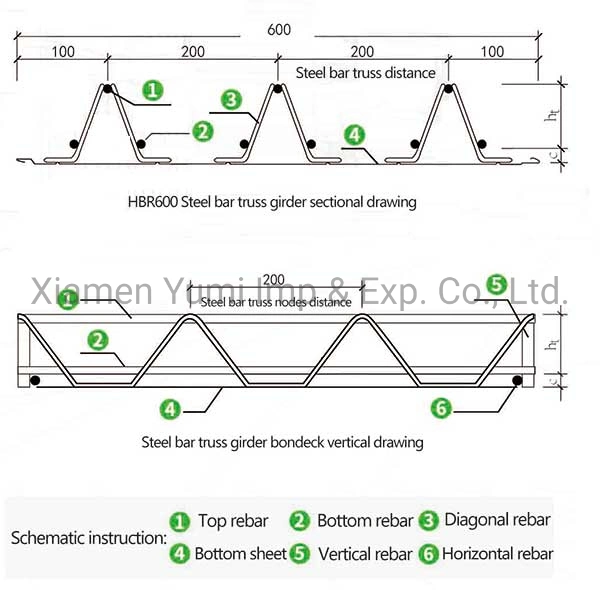 Product Composition

Top rebars,Bottom rebars,Middle rebars,Bracket vertical rebars,Bottom mould

Product parameters

Top rebars & Bottom rebars:Hot-rolled coiled steel bar H R B 4 0 0E ,H P B 3 0 0

;

Middle rebars:Hot-rolled coiled steel rebar H R B 4 0 0 or Cold rolled round rebar with equivalent performance C R B 5 5 0

Bracket vertical rebars:Hot-rolled coiled steel bar H R B 4 0 0 ,H P B 3 0 0

;

Bottom sheets: Q 2 3 5 cold rolled steel sheet;




S 2 5 0 G D + Z brand galvanized steel sheet.





Zinc coating is not less than 1 2 0 g / m² on both sides.

Product specs
Truss deck
Specs
Bottom sheet width(mm)

576mm 600mm

Length(m)

1.0-11.9

Floor thickness(mm)

100-300

Steel truss height(mm)

70-270

Concrete cover thickness(mm)

15

(

Top&Bottom of truss is 15mm)

Bottom mould thickness

0.50mm~0.80mm
3.Deck truss product applications: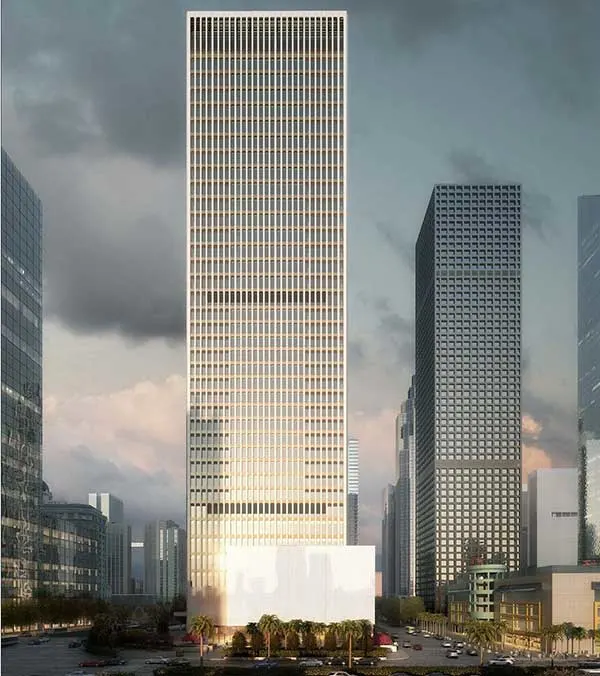 ☆
High-rise, super high-rise building structure
:
The high-rise and super
high-rises not only have very strict requirements on the quality of the structure,but also have special requirements for the construction period and site safety
.To use
truss
deck
floor slabs
on high-rise buildings
,
it can
form a plurality of relatively independent and safe working faces,
and
reducing the workload of on-site support and demolishing of stencils, and greatly improving the construction progress.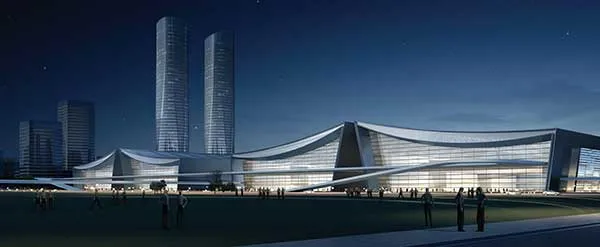 ☆
Long span steel structure
:
The scientific and reasonable mechanical design enables
steel
truss floor
decking
to meet the 5M unsupported large span design requirements.
During
the actual construction process
and
before the concrete is poured,a simple temporary support can be set in the slab span to meet the construction requirements
.A
t the same time
,it can
ensure the slab strength requirements in us
ing
phase
,and
speed up the construction progress and save costs.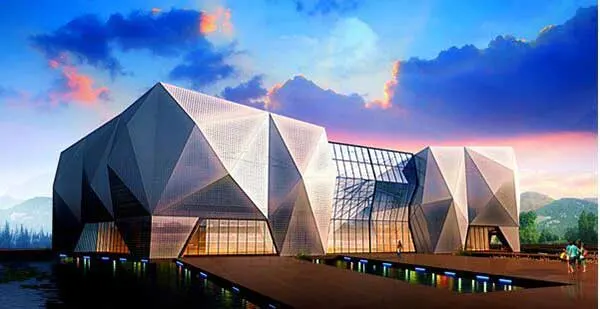 ☆
Irregular special shape structure
:
For round,elliptical and other special-shaped steel structures,the steel deck are usually designed as two-way slabs
.To
use reinforced
steel bar truss deck
can
solve the support problem of floor construction in irregular shape structures
well.

4.Deck truss selection table: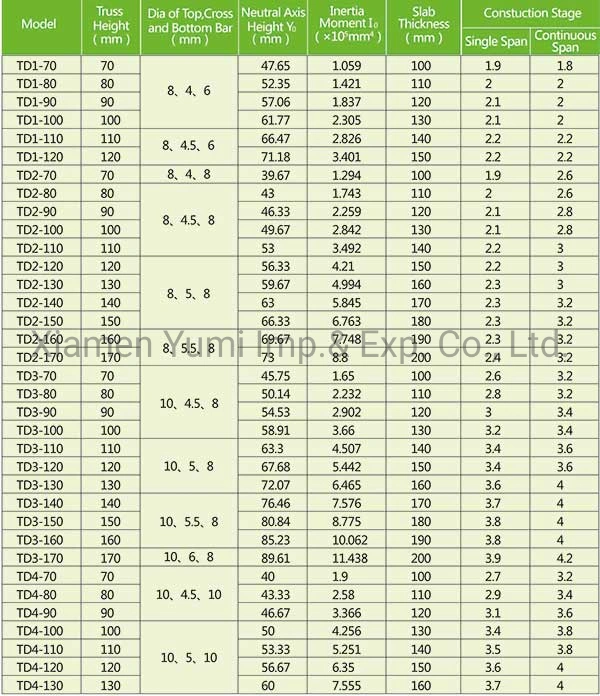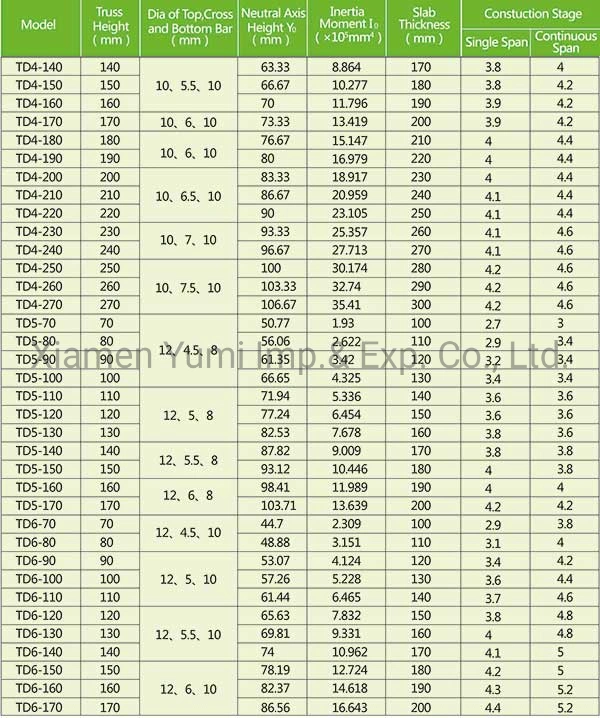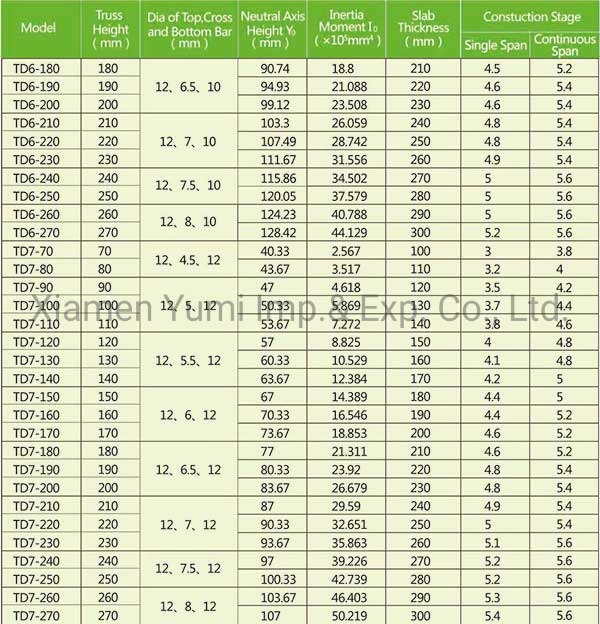 5.Deck truss VS. Corrugated steel deck:

Contrast point

Deck truss VS. Corrugated steel deck

Construction period

Comparing to profiled steel deck,steel truss deck can reudce 60-70% steel bars banding quantities,and reduce construction period for each floor.

Quality

1,Steel truss deck is produced by computer numerical control equipment,steel bar distance is evenly arranged and even by force;




2,Concrete protection layers thickness and floor slab thickness can be effectively guaranteed;




3,Base mould is not involved in the use phase,so it doesn't need to consider fireproof and anticorrosive problem.

Convenient and safe

1,The base mold and steel rebars of deck truss are integrated in factory,which make it easy construction;




2,Deck truss can reduce the bundling of steel rebars.It not only saves labor costs, but also reduces the safety hazards of reinforcing steel bars on site;




3,The two-way stiffness of the floor slab is close, which is good for building earthquake resistance.

Economic rationality

1,The force mode of steel truss deck is reasonable, the material selection is economical, and the comprehensive cost advantage is obvious;




2,The height of the truss and the size of the steel bars of deck truss can be adjusted to accommodate large-span slabs;




3,Steel truss deck can be designed as a two-way board;




4,The bottom mold of truss deck is flat and beautiful, which increases the floor usage by 20%.

Cost reducing

1,Steel truss deck can reduce the labor consumption;




2,Deck truss can reduce the cost of rented construction machines and construction management cost;




3,Deck truss can shorten the installation time,thereby speeding up the capital turnover, which reduces the cost.